On Sale
Gridiron Coffee Table
SKU: EEI-284-SLV
IN STOCK
ABOUT THIS PRODUCT
Straight lines were once deemed the realm of strict logic. This conduit design accomplishes something quite profound. It blends linear components with a pleasantly stainless steel tubular effect. Modernism used to be about extremes. Wild shapes and patterns that don't dare resemble its predecessors. We've reached an age of maturity of sorts. We appreciate style, but all the more, we respect those designs that represent a blending of cultures. The Gridiron tubular stainless steel bench is famous not for its radical shape, but for the strategic transcendence that it provides. Gridiron is perfect for reception rooms, living and lounge areas, and any other place in need of transformation.
FEATURES
Perfect Modern Side Table
Tempered Glass Top
Stainless Steel Construction
Easy to Clean
For Indoor Use
DIMENSIONS
Overall Product Dimensions: 39.5"L x 39.5"W x 17"H
SET INCLUDES
One - Gridiron Stainless Steel Coffee Table with Tempered Glass Top
CARING FOR YOUR FURNITURE
Customer Reviews
Write a Review
Ask a Question
Beautiful statement piece
It's a beautiful table— albeit quite large. We get lots of compliments on it as it is not your run-of-the-mill coffee table. I love how even though it's very big it doesn't visually register as such due to its reflectivity and lines. It's super sturdy too. Really pleased with the purchase.
coffee table
gridiron table is awesome - very large and modern - why does my response have to be 50 characters
Beautiful piece
The table is beautiful. I cant give it 5 stars as much as i would lime to because it arrived with several dents to the top of the metal. These would be covered and not noticable with the glass top but or glass top never arrived. Customer service was wonderful and corrected the problem immediately by sending a new one. Unfortunately this will take about another 3 weeks to get here. In the end it will be worth it. The table is beautiful and you cant beat the sites price.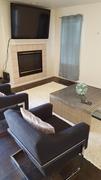 Best price online
I found this table on a few sites. Best price by a lot! Great quality and a beautiful statement piece. I love it.