On Sale
Empress Upholstered Fabric Ottoman
SKU: EEI-1667-AZU
IN STOCK
ABOUT THIS PRODUCT
Elevate your legs on the delightful aesthetics of the Empress mid-century style ottoman. Made to convey the pleasure of simple post-industrial design, Empress comes finely upholstered in fabric with plush foam padding and stained hardwood legs. Empress combines a boxy design with artfully tapered legs for a piece that leaves you thankful that you can relax amidst such calming décor.
FEATURES
Mid-century style ottoman
Fabric upholstery
Solid wood legs
Polyurethane foam padding
Spot clean surface
DIMENSIONS
Overall Product Dimensions: 30"L x 24.5"W x 18"H
CARING FOR YOUR FURNITURE
Customer Reviews
Write a Review
Ask a Question
So easy to assemble and looks just like it did online
comfy cute and chic. a must have to increase couch utility+comfort.
we purchased the empress couch in light grey. this was for a small space and although we really craved a chaise style sofa for pure comfort -- who doesn't like throwing their feet up? -- because the space was small having a full-fledge chaise would make the space awkward. . . so... when we decided on the empress couch we were super happy to see there was as matching ottoman! because we knew that would add the versatility to sitting or lying that we wanted... but also could be a piece we could move out of the way when not needed. so-- kind of sort of a perfect solution for the space constrained! . . once we decided yup we're getting the ottoman though we were confused and kind of scratching our heads as to why the empress ottoman didn't come in light grey to match the couch?! we were about to go for the closest matching shade -- grey... or even perhaps oatmeal... -- but then decided you know if we can't get the exact match maybe get something completely different and chose the wheatgrass which perfectly matches style-wise since it's the same line. yet with the bright and contrasting burst of color... it really adds some flair to the couch while still integrating with it interestingly and dynamically! (at least... that's our opinion haha...!). . . while couch shopping we had always wanted a couch with metal legs because this was going in a somewhat modern space. this couch and ottoman come with wooden legs but we still gave it a fun and fresh modern twist by painting the legs silver. and it's exactly the pop we needed and wanted for the couch and ottoman and room even though it's a tiny detail. adds an updated unusual twist! . . the ottoman so far has been great to throw your feet on and relax with. and as an occasional additional seating area it is very useful too. or... you can place a tray on it and use it for an impromptu or temporary coffee table. the piece is well made with tight stitching flat material (i.e. well sewn and not puckered like a cheap piece would be.) and it is lightweight enough to move around very easily. there's also like a hidden compartment underneath it -- a large zippered compartment space! i dunno if that's like a secret safe. but i realized it would be a good place to hide stuff if you need to do that sort of thing! . . anyway definitely good quality value and style with the empress line. and the ottoman is a must-have with the couch i think as a very effective and relatively economical way to vastly increase the utility and ability of the couch to crash down on and relax on.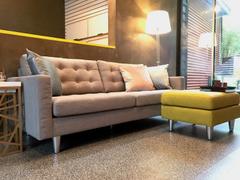 Classy ottoman
I definitely recommend this ottoman. The fabric is beautiful and the texture shows. The ottoman looks really classy and expensive. I couldn't be happier with mine. I looked all over for the right ottoman for my den and this was the one.
Great ottoman for the price
Great mid-century style ottoman that matches the chair. Both ottoman and chair are good quality for the price we paid.